Why Wi-Fi Works: The Survival Of Business Lies In Its Online Connectivity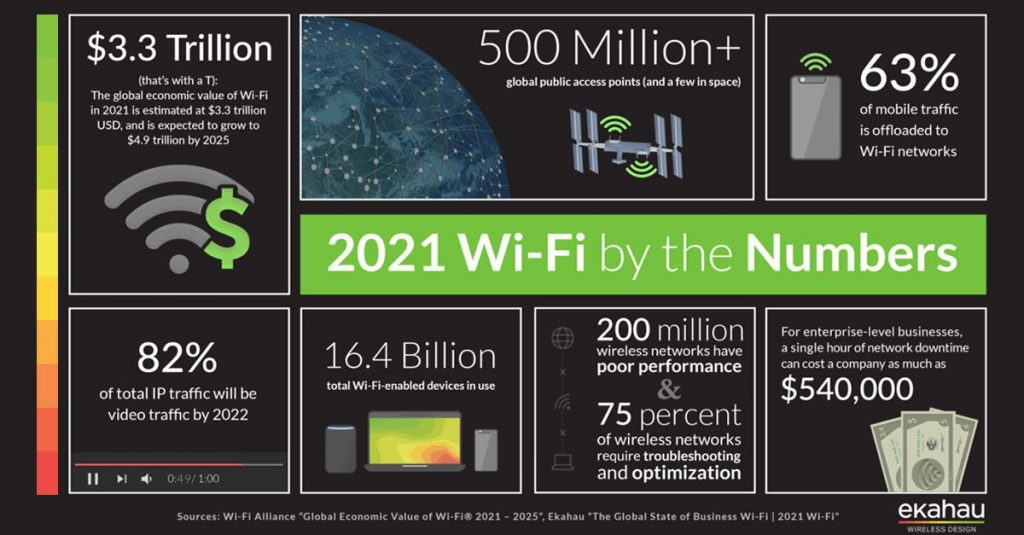 We are officially in the age of wireless connectivity...
As the world begins to make its way out of the pandemic and into the 'new norm', many businesses that have been heavily affected by the worldwide lockdowns will be ready to hit the ground running – and will likely be relying on maximum technological advantage to do so.
Almost every company uses the internet nowadays. From managing its social media, to internal/external communication, to transmitting the vital business documents and information; companies and business organisations are not just using the internet – they're depending on it.
So much so, that it's hard to imagine how a company could operate without adept high-speed connectivity. Wi-Fi isn't just the future. It's also the here and now.
Some of the benefits of strong Wi-Fi connectivity include:
Perhaps an obvious point, but for the millions of companies across the globe that operate via an online presence and provide services/customer handling by way of their website or social media, good Wi-Fi connectivity is paramount. If it loses connection, it loses money.
REMOTE WORKING PRODUCTIVITY
The business shake-up that has come with the pandemic has seen many of us in remote locations and still managing to excel within our roles and continue to be a vital cog in keeping our company afloat.
This wouldn't have been possible without the wonder of Wi-Fi. With ever-enhancing/evolving technologies that allow us to access communications and online documentation, business can be conducted from anywhere in the world – as long as it has a good Wi-Fi connection.
INCREASED CUSTOMER SATISFACTION
More and more businesses offer customers/clients access to their Wi-Fi. This is particularly popular within the hospitality industry. In the height of the digital age, something as seemingly harmless as not offering free Wi-Fi connection can be extremely off-putting to potential customers, and in turn, could have an adverse effect on revenues.
So, it's safe to say Wi-Fi is an essential part of business management. And here's the stats to back it up:
As of 2021,
The global economic value of Wi-Fi is $3.3 trillion USD and is expected to grow to $4.9 trillion by 2025.
82% of total IP traffic will be video traffic by 2022.
There are over 500 million global access points (and a couple in space…)
63% of mobile traffic is offloaded to Wi-Fi networks.
At present, there are 16.4 billion Wi-Fi-enabled devices in use.
And here's the troubling statistics:
200 million wireless networks have poor performance and 75% of wireless networks require troubleshooting and optimisation.
For enterprise-level businesses a single hour of network downtime can cost a company as much as $540,000.
So a network failure, or even just a slow speed connection, can be catastrophic – particularly for start-ups and SMEs.
This is why it is important to take the time in making sure your organisation has the best possible Wi-Fi network set up for your business and location, and why services such as wireless surveys often hold the key to improving your business's connection, and ultimately, its profits.